Campus Ministry Locator
Campus Minister Results
Belmont University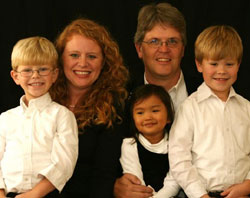 Campus Minister Bio:
Kevin, a graduate Berklee College of Music (1986) and Covenant Theological Seminary (1995), began work at Belmont in 1995 after a career in the music industry. His work with RUF led to the creation of "Indelible Grace Music" (www.igracemusic.com) which has produced a number of CDs of old hymns set to new music. Kevin is married to Wendy and they have three children, Cooper, Isaac, and Amelia (whom they adopted from China in 2005.) He enjoys music, disc golf, and collecting old books.
State Results
Your search for 'TWIT' returned 0 State results.
Campus Name Results
Your search for 'twit' returned 0 Campus results.